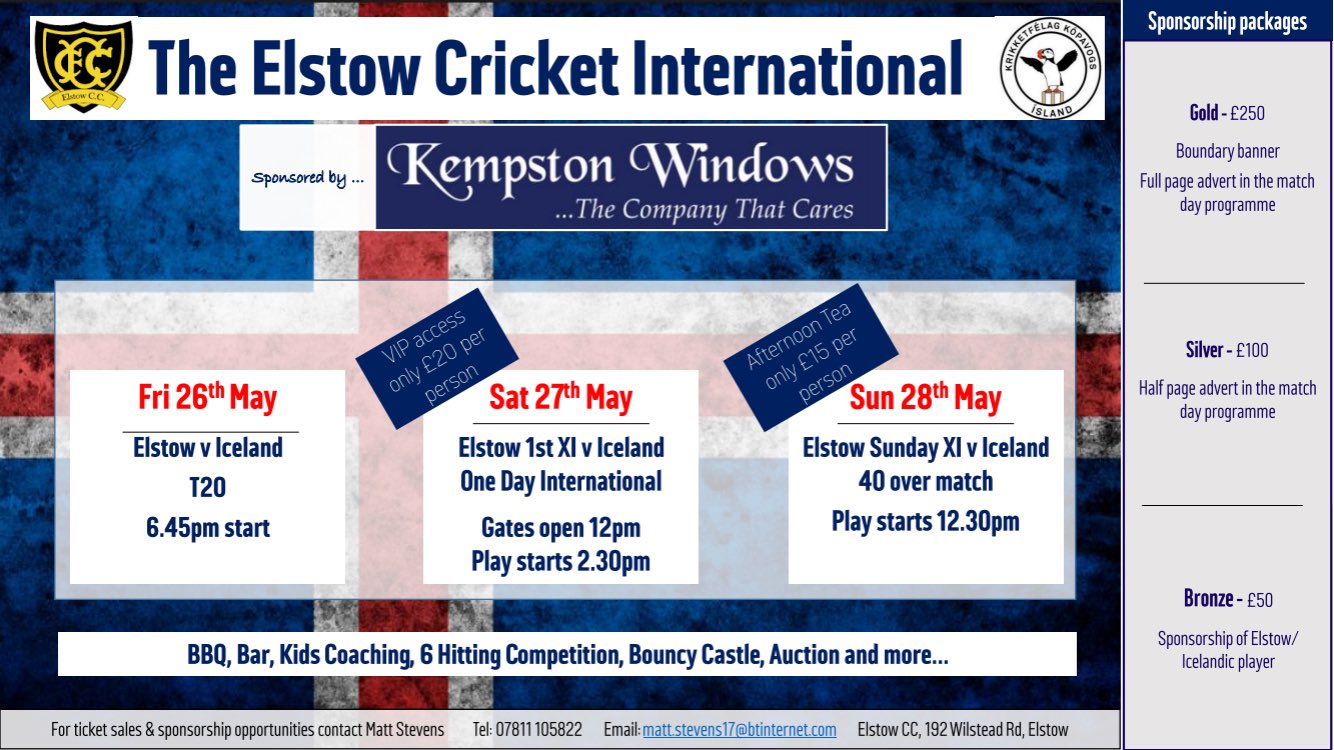 THE ICELANDERS ARE COMING...
26-28th May 2017: The Elstow International Trophy, sponsored by Kempston Windows
Elstow CC take on the Iceland National Cricket Team in an International mini-series. For sponsorship, corporate and event details, follow us on Twitter - @elstowcc or email elstowcricketclub@hotmail.co.uk
- - -
Elstow CC is a growing, community cricket club in Elstow, a beautiful village just south of Bedford made famous as the birthplace of John Bunyan (and also Barry Fry). We play at The Warren, the lovingly maintained heartbeat of the village, a scenic spot with views of the neighbouring farmland and the Elstow Abbey Church.
We have two senior Saturday sides, who both play in the Morrant Four Counties Cricket League in Div 1 and 4 respectively, and a Sunday side in Division 4 of the .
Our Youth section has flourished since its inception in 2007, growing from a squad of 18 in 2007 to around 60 in 2016, with teams at Under 10, 12's, 14's and 16's level all playing in the Bedfordshire Youth League. We run training and net sessions for all our junior and senior sides.
In our recent past we are proud to report we have grown the club both in terms of facilities and membership. We have also beaten "Australia" in front of a packed Warren crowd twice, appeared on Sky Sports' Cricket AM, been granted ClubMark status by the ECB, returned unbeaten from a successful World Tour of Norwich, had a state-of-the-art Pie Warmer installed in our post match lounge, The Pigeon Toe Inn as well as been crowned winners of the Bedfordshire Indoor Cricket League and the Bedfordshire Midweek Cricket League. In short, there's always something going on at Elstow!
If you are interested in playing for Elstow, fancy getting involved with your local cricket club or would simply like some more information about what we do, please email elstowcricketclub@hotmail.co.uk.
We look forward to hearing from you and welcoming you to The Warren soon...